Warning
: Illegal string offset 'status_txt' in
/home3/izziebyt/public_html/talktyria/wp-content/plugins/share-and-follow/share-and-follow.php
on line
1243
Warning
: Illegal string offset 'status_txt' in
/home3/izziebyt/public_html/talktyria/wp-content/plugins/share-and-follow/share-and-follow.php
on line
1243
Warning
: Illegal string offset 'status_txt' in
/home3/izziebyt/public_html/talktyria/wp-content/plugins/share-and-follow/share-and-follow.php
on line
1243
Warning
: Illegal string offset 'status_txt' in
/home3/izziebyt/public_html/talktyria/wp-content/plugins/share-and-follow/share-and-follow.php
on line
1243
Warning
: Illegal string offset 'status_txt' in
/home3/izziebyt/public_html/talktyria/wp-content/plugins/share-and-follow/share-and-follow.php
on line
1243
Warning
: Illegal string offset 'status_txt' in
/home3/izziebyt/public_html/talktyria/wp-content/plugins/share-and-follow/share-and-follow.php
on line
1243
Warning
: Illegal string offset 'status_txt' in
/home3/izziebyt/public_html/talktyria/wp-content/plugins/share-and-follow/share-and-follow.php
on line
1243
Warning
: Illegal string offset 'status_txt' in
/home3/izziebyt/public_html/talktyria/wp-content/plugins/share-and-follow/share-and-follow.php
on line
1243
Warning
: Illegal string offset 'status_txt' in
/home3/izziebyt/public_html/talktyria/wp-content/plugins/share-and-follow/share-and-follow.php
on line
1243
Warning
: Illegal string offset 'status_txt' in
/home3/izziebyt/public_html/talktyria/wp-content/plugins/share-and-follow/share-and-follow.php
on line
1243
Warning
: Illegal string offset 'status_txt' in
/home3/izziebyt/public_html/talktyria/wp-content/plugins/share-and-follow/share-and-follow.php
on line
1243
More from the acorn factory


Jera spending a quiet afternoon in Random Arena waiting space. She likes starfish. No really. She does.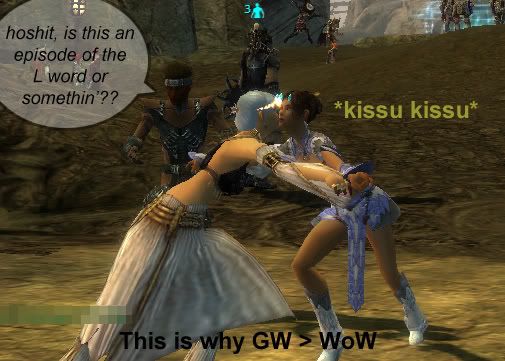 As fate would have it, I ran into some nutjobs while waiting to get into AB one day. By the end of the night i wound up grouping up with them, and madness ensued until like 9am the next day. I chose a good night to drink coffee and induce insomnia. We're life long e-friends now.
Anyway, hot elemental action 9.99/3 hour acess. Paypal approved.

I'm starting to think ancient armor may be a little too fierce for my ranger. Like Ru-Paul fierce.
You know. Pigtail buns and pink flowers vs spikes and skeletal abominations.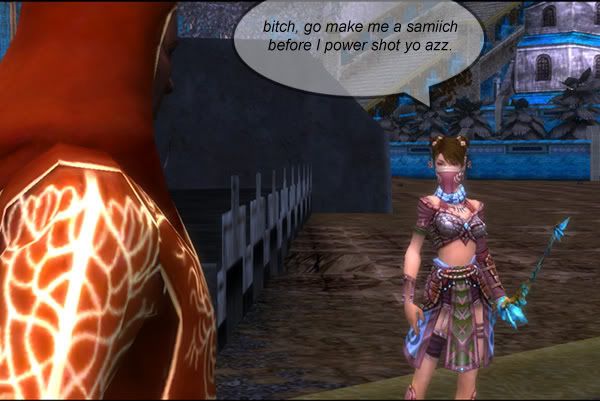 I have nothing to to say about this.
---
This screenshot is thanks to Fred, the tokken black sin in the L-word picture. THe caption (C) Me 2007 steal and I eat your uteri.