Warning
: Illegal string offset 'status_txt' in
/home3/izziebyt/public_html/talktyria/wp-content/plugins/share-and-follow/share-and-follow.php
on line
1243
Warning
: Illegal string offset 'status_txt' in
/home3/izziebyt/public_html/talktyria/wp-content/plugins/share-and-follow/share-and-follow.php
on line
1243
Warning
: Illegal string offset 'status_txt' in
/home3/izziebyt/public_html/talktyria/wp-content/plugins/share-and-follow/share-and-follow.php
on line
1243
Warning
: Illegal string offset 'status_txt' in
/home3/izziebyt/public_html/talktyria/wp-content/plugins/share-and-follow/share-and-follow.php
on line
1243
Warning
: Illegal string offset 'status_txt' in
/home3/izziebyt/public_html/talktyria/wp-content/plugins/share-and-follow/share-and-follow.php
on line
1243
Warning
: Illegal string offset 'status_txt' in
/home3/izziebyt/public_html/talktyria/wp-content/plugins/share-and-follow/share-and-follow.php
on line
1243
Warning
: Illegal string offset 'status_txt' in
/home3/izziebyt/public_html/talktyria/wp-content/plugins/share-and-follow/share-and-follow.php
on line
1243
Warning
: Illegal string offset 'status_txt' in
/home3/izziebyt/public_html/talktyria/wp-content/plugins/share-and-follow/share-and-follow.php
on line
1243
Warning
: Illegal string offset 'status_txt' in
/home3/izziebyt/public_html/talktyria/wp-content/plugins/share-and-follow/share-and-follow.php
on line
1243
Warning
: Illegal string offset 'status_txt' in
/home3/izziebyt/public_html/talktyria/wp-content/plugins/share-and-follow/share-and-follow.php
on line
1243
Warning
: Illegal string offset 'status_txt' in
/home3/izziebyt/public_html/talktyria/wp-content/plugins/share-and-follow/share-and-follow.php
on line
1243
Disclaimer – This post was written before we knew about the final profession line-up. It's also kind of dumb / silly. Please take it as humorous satire and nothing more. 
As if it wasn't already obvious, I've been playing video games and trolling the internet for a looongggg time (12 year veteran on the latter). Having been active in many online communities including RPs, forums, Live Journal, and MMOs, I've got a lot of experience with the different types of … *personalities* you will often find lurking around the web. And I'm being kind, here.
Every MMO that offers multiple races/classes, which is the majority of them, will find that certain demographics of players will stereotypically be attracted to a certain type of character or role. A common gaming stereotype, for example, is that females tend to be healers or casters, while males are more likely to take tanking and melee damage roles.
Now before I get chewed out for saying this, I'm more than aware that these are generalities and do not apply to everyone. But the same way Asians usually are smart, and lawyers usually are soul-less, we have to keep in mind that stereotypes are generally based on observable tendencies within certain demographics.
So anyway, this post is pretty much about this. Guild Wars 2 will offer five races, and here I've ranked them in the order of which I predict will be most popular, when, and who will be the people playing them. These predictions are based on an "assumption" that each race can play any profession and that there will be no racial affinities/passives (IE Sylvari have improved bow usage), both of which have a high possibility of being implemented and could change the demographics.
And while I hate to do it, I will be referencing WoW since it has the largest population of players and has been my main source of experience in the past.

Sylvari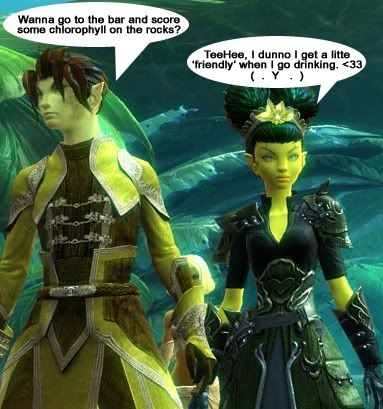 Popularity Rank : 1
Player Gender: Majority Female
Popular Professions: Mesmer, Ranger, Ritualist, Monk
Naming Trends: Those related to the mystical, nature, gods, and pointing out that the player is female.
-Melandrus Daughter, Keeper of Wolves, M A L I N A, Hexual Healing, Short Skirt Double DD
Likely Personalities:
-Old School GW players who care about lore.
-15-year-old attention whores
-New GW Players
-Gay Men
It was a toss up between Sylvari and Human for #1, but Sylvari beat them out for several key reasons.
Old school guild wars players are very interested in the Sylvari because they are the only race we haven't encountered in Guild Wars 1. We've played humans for five years, so it's time for a change.
Gamers who have done MMORPG but aren't familiar with Guild Wars will likely be intrigued by the Sylvari since they are mystical and unique yet not a generic elf race.
Teen and early college-age attention whores will likely roll Sylvari because they're pretty with British accents. That would also include the bitchy ones who complain in PvP when you're losing by 2 points, are offended by "Yo Momma" and "That's what she said" jokes, and have character names like "Cutey Babe IRL."
However, I think Sylvari will NOT be the Blood/Night Elves of GW2 because they don't have much to cater to male players. While they are pretty, they don't strike me as being "hot", a big reason guys make female toons. The customization options are a little too out there and the males are too thin and lanky to attract many male players who'd rather play hulking, buff manly men (if you think I'm joking, google why Blizz made blood elf males more built, when they were originally much thinner).
I figure Sylvari to be the most popular at first, but expect them to get eclipsed by Humans with time.

Humans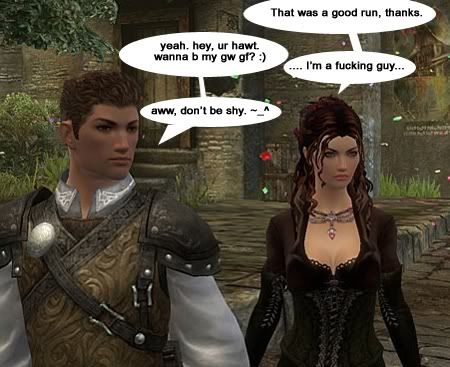 Popularity Rank : 2
Player Gender: Fairly Even, leaning towards male.
Popular Professions: Warrior, Monk, Elementalist, Necromancer
Naming Trends: Generic First/Last names, as well as ones suggesting deep personality. Most likely to be named after existing NPC's.
-Gerad Omalley, Elena Watson, Cynns Daughter, The Lone Hero, Legend Of Tyria, I Like Swords And Pizza
Likely Personalities:
-Role Players
-New MMO Players
-Lonely Housewives
-Guidos
-Guys who play girl characters.
There really isn't much to say about Humans. They're a staple in any MMO, and the most familiar, but kind of generic and boring. Many Role Players will roll Humans because of the familiarity. GW-RPers have often said the descendants of their current toons should be human, and being any of the other races would not make sense. RPers who are new to GW will lean towards humans since they have no idea about the lore of the other races. New mmo players choosing GW2 to pop their cherry will probably go for the "saftey" of being something familiar.
Lonely Housewives and cougars looking for some young, impressionable 20 somethings to make their husbands jealous will probably roll human. Psychologically, people are most likely to fall for a personality behind an avatar they can relate with.
Guidos will be humans cause that's how they roll.
Charr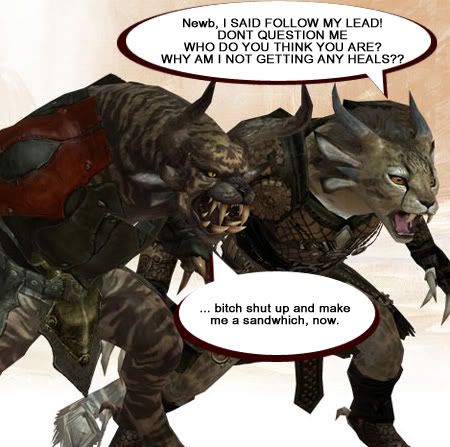 Popularity Rank : 3
Player Gender: Mostly Male
Popular Professions: Warrior, Ranger, Elementalist, Assassin
Naming Trends: Many last names compounded with weaponry, attempts at being badass/threatening, taunts, rappers and LoLcat references.
-Cheza Swiftarrow, Thulo Axesmash, Oh Noes Ur Dead, Jay Z Fo Reel, I Can Haz Meow Mix.
Likely Personalities:
-Olllld School GW Players
-Thugs
-Jocks
-Gold Farmers
-12-year-old boys
-Girls who play FPS/RTS
The Charr come in at a close 3rd on the list by a small margin. Old School GW players will love playing the race that, quite literally, shook their world 5 years ago when the game first started. They have a great, war-ridden background story and are likely to attract "Horde"-ish players.
Being the angry beast-race, the Charr will attract lots of the macho-men who like to tear shit up (and who wouldn't?). 12-year-old boys will also like Charr because either (wrongly) think they are or wish they were as badass as the Charr. Girls who play FPS/RTS games are also likely to play Charr, because they are violent in nature and like bossing guys around.

Asura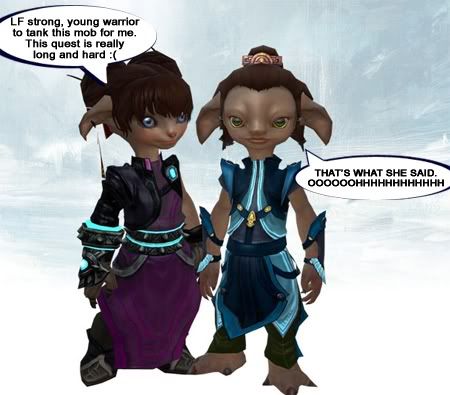 Popularity Rank : 4
Player Gender: Fairly Even, leaning towards male.
Popular Professions: Elementalist, Mesmer, Ritualist
Naming Trends: Abusive names challenging the TOS, geeky/nerdy references, phrases of self importance, Engrish, Asian Characters.
-Horney Was Your Mom, Naga Stole My Focus, H A X X E R, Yodas Sister, Rove U Rong Time, 流感吮
Likely Personalities:
-Trolls
-Attention whores pretending to not be attention whores.
-College kids with IT degrees.
-Misguided Felica Day fanboys.
-Asians
The Asura are predicted to be the annoying, short race that the Gnomes have been to WoW, and as such most likely to attract trolls. It's ironic because they also, as a race, have an unjustified superiority complex to everybody else, most likely compensation for their lack of real credibility shortness. Asura will be the ones dancing on your body in PvP, taunting in general chat, and starting fights in trade/forums.
Attention whores pretending to not be attention whores will be attracted to this race. Asura are cute enough to satiate their need for vanity but 'different' enough that they won't seem like the generic pointy-eared loving facerollers. These are the most dangerous brand of attention whores because they are manipulative and cunning. Most likely the ones to act cool in public but then cry about how their boyfriend left them in WoW for some asian chick who rolled Druid in an attempt to draw you into their trap.
…
College kids with IT degrees and Asians will like Asura because they will feel a kindred connection to those with an affinity to technology and giant mecha.
Norn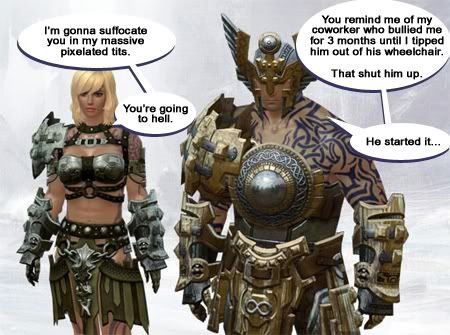 Popularity Rank : 5
Player Gender: Fairly Even, Leaning Towards Male
Naming Trends: Animal references, Nordic/Viking influenced nominers, annoying foreign lettering, references to literature and mythological deities.
-Keeper of Ravens, Cnaiür urs Skiötha, Beowulf From Toronto, The Fist Of Zeus, Woof Bears, Izzies Bank Alt
Popular Professions: Ranger, warrior, dervish, paragon
Likely Personalities:
-Chill Players
-Bored Players
-Canadians
-BankAlts
-Goofballs / Fake RPers
-Short People
I think Norn will be the least played characters because, ascetically, they are just overgrown humans and other than shape shifting they don't have anything that I feel would attract any specific group of people. Because of this, they will also be the race with the chillest players. They have that "kinda human, but just different enough" feel. People will roll them just to try and then find they're kinda cool/fun and stick with it.
I feel many bank alts will be Norn, as well as general goofballs because they are such a serious, viking race and it's funny to imagine them dancing on mailboxes.
Short people will play Norn for the obvious reasons.
I feel like the Norn will be the Tauren of GW2, with a player base that's laid back and generally liked by everyone, except the Asura because they hate everybody.
Well, with Guild Wars 2 still well over a year off, it's going to be a long time before I get to see whether I'm right or wrong.
It will be well worth the wait.