Warning
: Illegal string offset 'status_txt' in
/home3/izziebyt/public_html/talktyria/wp-content/plugins/share-and-follow/share-and-follow.php
on line
1243
Warning
: Illegal string offset 'status_txt' in
/home3/izziebyt/public_html/talktyria/wp-content/plugins/share-and-follow/share-and-follow.php
on line
1243
Warning
: Illegal string offset 'status_txt' in
/home3/izziebyt/public_html/talktyria/wp-content/plugins/share-and-follow/share-and-follow.php
on line
1243
Warning
: Illegal string offset 'status_txt' in
/home3/izziebyt/public_html/talktyria/wp-content/plugins/share-and-follow/share-and-follow.php
on line
1243
Warning
: Illegal string offset 'status_txt' in
/home3/izziebyt/public_html/talktyria/wp-content/plugins/share-and-follow/share-and-follow.php
on line
1243
Warning
: Illegal string offset 'status_txt' in
/home3/izziebyt/public_html/talktyria/wp-content/plugins/share-and-follow/share-and-follow.php
on line
1243
Warning
: Illegal string offset 'status_txt' in
/home3/izziebyt/public_html/talktyria/wp-content/plugins/share-and-follow/share-and-follow.php
on line
1243
Warning
: Illegal string offset 'status_txt' in
/home3/izziebyt/public_html/talktyria/wp-content/plugins/share-and-follow/share-and-follow.php
on line
1243
Warning
: Illegal string offset 'status_txt' in
/home3/izziebyt/public_html/talktyria/wp-content/plugins/share-and-follow/share-and-follow.php
on line
1243
Warning
: Illegal string offset 'status_txt' in
/home3/izziebyt/public_html/talktyria/wp-content/plugins/share-and-follow/share-and-follow.php
on line
1243
Warning
: Illegal string offset 'status_txt' in
/home3/izziebyt/public_html/talktyria/wp-content/plugins/share-and-follow/share-and-follow.php
on line
1243
Not a week after the end of Wintersday 2009 Redux, the good folk of Guild Wars have a whole new holiday to celebrate and farm.



I'll be live streaming some of the events, specially sunday, so keep tuned in for some behind the scenes action over there ——————>
Not so loosely based off of the Chinese New Year, this celebration of the Year of the Tiger (rawwwrrr) is open to all characters with access to the Factions campaign. The weekend is chuck full of fun festivities including AFK title grinding, rollerbeetle racing, Dragon Arena tom-foolery, and item farming to appease the Great Tiger during the finale.
A comprehensive guide to the holiday can be found here.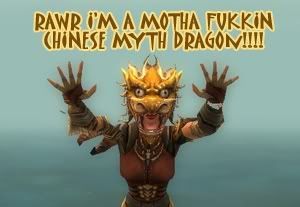 Furthermore, some random guild will be hosting the Finale in select districts all day Sunday, starting at 12am PST (3am EST, OH JOY.) til 12am the next day, providing a fun and easy way to get your special gifts every time the Tiger comes down to terrorize the innocents. They'll basically be doing all the hard work.
Like Wintersday, the Tiger will bestow upon us his glory every 3 hours starting at 12.Be sure to reserve your spot in hosted districts early as they're sure to fill up by the Waited Hour.
GL, HF, Get Drunk!