Warning
: Illegal string offset 'status_txt' in
/home3/izziebyt/public_html/talktyria/wp-content/plugins/share-and-follow/share-and-follow.php
on line
1243
Warning
: Illegal string offset 'status_txt' in
/home3/izziebyt/public_html/talktyria/wp-content/plugins/share-and-follow/share-and-follow.php
on line
1243
Warning
: Illegal string offset 'status_txt' in
/home3/izziebyt/public_html/talktyria/wp-content/plugins/share-and-follow/share-and-follow.php
on line
1243
Warning
: Illegal string offset 'status_txt' in
/home3/izziebyt/public_html/talktyria/wp-content/plugins/share-and-follow/share-and-follow.php
on line
1243
Warning
: Illegal string offset 'status_txt' in
/home3/izziebyt/public_html/talktyria/wp-content/plugins/share-and-follow/share-and-follow.php
on line
1243
Warning
: Illegal string offset 'status_txt' in
/home3/izziebyt/public_html/talktyria/wp-content/plugins/share-and-follow/share-and-follow.php
on line
1243
Warning
: Illegal string offset 'status_txt' in
/home3/izziebyt/public_html/talktyria/wp-content/plugins/share-and-follow/share-and-follow.php
on line
1243
Warning
: Illegal string offset 'status_txt' in
/home3/izziebyt/public_html/talktyria/wp-content/plugins/share-and-follow/share-and-follow.php
on line
1243
Warning
: Illegal string offset 'status_txt' in
/home3/izziebyt/public_html/talktyria/wp-content/plugins/share-and-follow/share-and-follow.php
on line
1243
Warning
: Illegal string offset 'status_txt' in
/home3/izziebyt/public_html/talktyria/wp-content/plugins/share-and-follow/share-and-follow.php
on line
1243
Warning
: Illegal string offset 'status_txt' in
/home3/izziebyt/public_html/talktyria/wp-content/plugins/share-and-follow/share-and-follow.php
on line
1243
From a self proclaimed Gaming Fashionista comes an epic and catty debunking of in game style.
Beware. It can get ugly.

Jera's Vote: Nay (severe nay)
At first I thought, this is, simply put, classic case of PvP experimentation gone wrong. Then I thought about it and oh man, did I want to stab my eyes. The top is PvE. So someone spent the money on this combination? Albiet, it's 1k but still. Here we have standard Sunspear top and arms Shing-Jei skirt and Starter/Ascalon shoes. So comes another failed attempt to make the skankiest ele armor combo possible. There's a difference between classy skanky and just out right wrong, and you, ma'am, fall into the latter. Suggestion: start over.


Jera's Vote: Yay
Ignoring my initial distaste for some of the more revealing costumes in GW, I have to say this combo definitely caught my eye. 15k Druid arms, feet, and top with the 15k Studded Leather legs. They work well together and are died a natural color (green?) to keep with a general scheme. There's nothing I can think of to change this for the better. Kudos for the creative put together!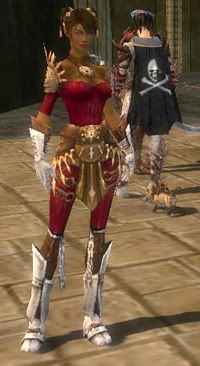 Jera's Vote: Nay
Elite Sunspear top and legs with Istani hands and feet. What bothers me about this combo isn't the mixed armor (istani gloves/boots can go with just about anything, which is wonderful). But the bright white dye-job on the arms and feet takes away from the entire thing and makes the mixed-part extremely noticable. And while I do say Istani can go with anything, the money was spent on the 15k Sunspear Armor. I'd suggest to at least synergy the gloves and boots with the standard Sunspear. Less harsh a color, as well, like a gold/orange/brown if red wouldn't match right. A noble try falling just a bit too short.

Jera's Vote: Yay
But just barely. Here we have Ancient top and feet and Elite Woven skirt and handwraps. I think the general style and design for the two armors work well, though the skirt is just a WEE bit off, imo. Intentional or not, the arms and skirt being dyed similar colors kinda helps bring it together pretty well. My suggestion would be a less harsh dye color; white/silver should be replaced with a dulled down yellow/brown/orange mix to match the rest of the clothes better. For something a bit more daring, kurzick handwraps would look pretty nifty.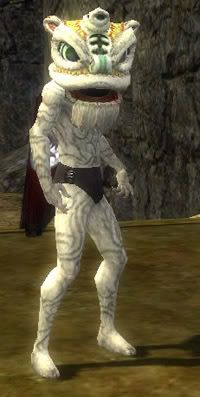 Jera's Vote: Yay
You may be asking yourself "how does this piece of garbage get a yay?" And so I say to you… the pure humor of it. It's actually kinda hard to wear holiday masks in a way that's not ridiculously painful. Most people don't care, being that's kind of the point of holiday masks. However, every now and then you come across something like this that's so absolutely perfect. The only other hat/armor combo I can think of that's remotely equal would be santa hat with furlined armor. Candycane weapons a plus.
Suggested Mix Armor of the Issue: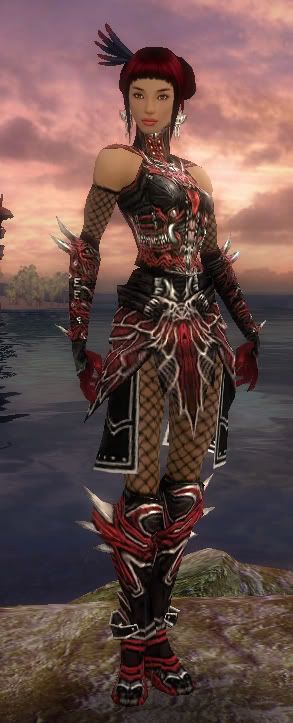 This combo makes for a pretty awesome bad-ass look for Fem Necros. The key to the outfit is the Canthan top and 15k Luxon Skirt. The styles work awesomely together, and they dye pretty much the same. What I have here includes Canthan gloves and 15k Luxon boots. For a cheaper alternative, regular luxon look just as great, as do standard canthan. Gloves can also be luxon. For less fiersomeness, Kurzick gloves and boots, or Krytan Gloves and boots. Outside of Canthan/Luxon combos, gloves and boots should be from the same set.
—====================—
That's it for this issue. I'll be stalking around for more disasters / fabulousness. Feel free to submit your own screens be it your own char or something you see for review! Def let me know what you think~